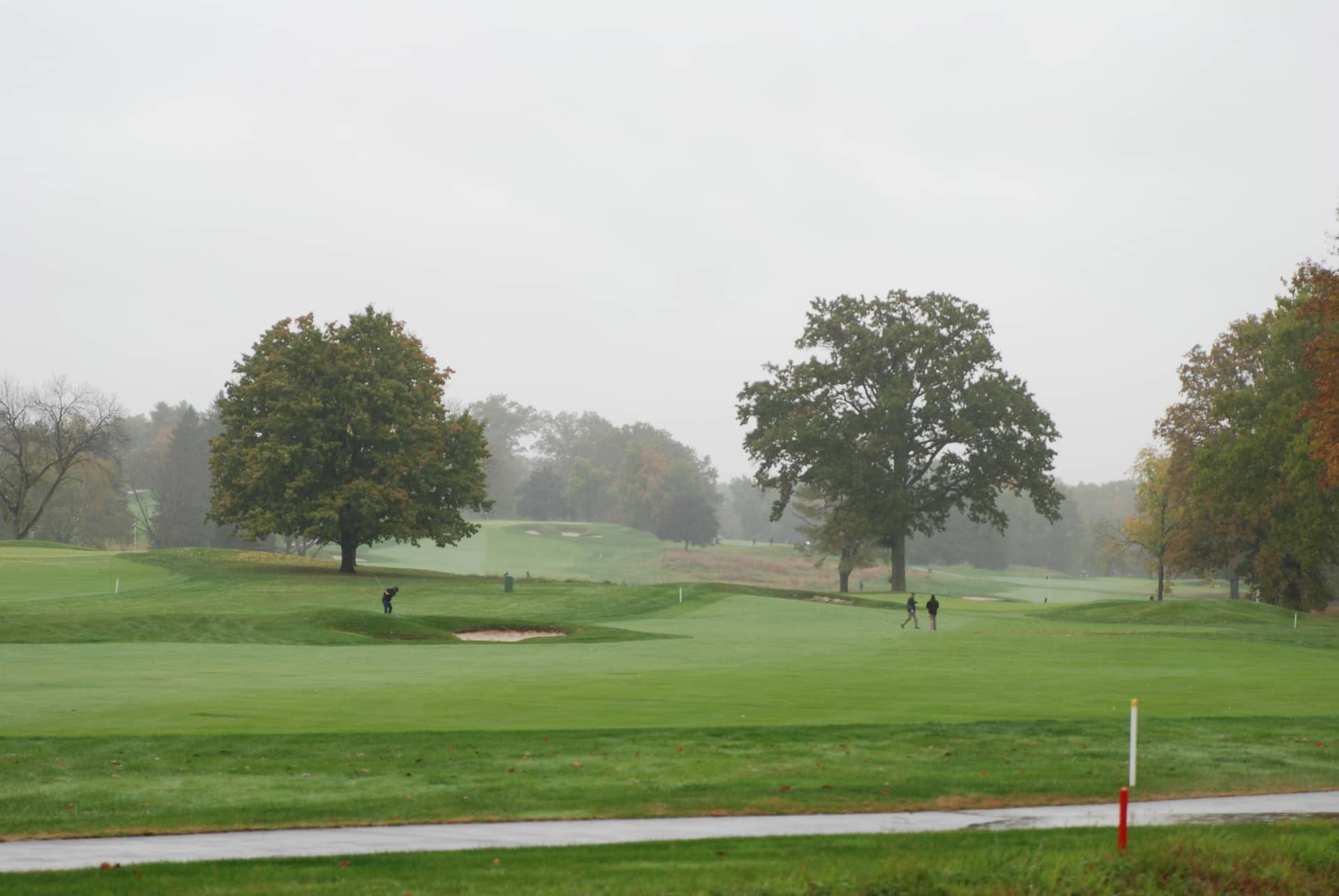 $153,075 Donated to Veteran and Military Non-Profits from the 17th Annual Iron Hill Charity Golf Open
Posted on Dec 21, 2020 in General
J.G. Petrucci Co, Inc. and Iron Hill Construction Management hosted the Iron Hill Charity Golf Open at Fiddler's Elbow Country Club
On Monday, October 12, 2020, nearly 200 golfers enjoyed a rainy and chilly round of golf while supporting our brave veterans, military personnel, and their families. Hosted by J.G. Petrucci and Iron Hill Construction Management, the socially distant event featured two of the country club's premier golf courses, over $6,000.00 of prizes, and on-course awards for first, second, and third place.
"There is no question that hosting a fundraising event at this moment in time is challenging, to say the least," explains Greg Rogerson, Principal at J.G. Petrucci Co., Inc. "However, such challenges are nothing in comparison to what our veterans and active military have faced. We thank all of our sponsors for stepping up again this year and making this event possible."
For 17 years and counting, the firms have partnered with local construction and real estate professionals to raise money that supports our brave military personnel, veterans, and their families. Over the years, more than $1,000,000.00 has been donated to veteran-focused non-profits that are chosen based on the work they do.
This year's selected non-profits work to improve the lives of our local military service members, veterans, and their families by fostering and coordinating support from businesses, organizations, institutions, and communities. These organizations are dedicated to promoting awareness of the military's role through educational programs, public events, and providing monetary assistance through scholarships and grants to military families in need.
This year, $153,075 has been donated to the following veteran-focused non-profits based on the well-respected work and support they offer to veterans, military personnel, and their families.
Special thanks to the generosity of this year's event sponsors who made the 17th Annual Iron Hill Charity Golf Open possible:
Title Sponsors
Alert Fire
Bazella Group
Bohler
Comroe Advanced Power
Environmental Consulting, Inc
Fenstermacher Construction
Forcine Concrete & Construction
Griffin Drywall
Ira G. Steffy & Son Inc.
IT Landes Company LLC
Legacy Roofing Services
Murphy Schiller & Wilkes LLP
Provident Bank
Schlosser Steel, Inc.
NJ Site and Utility
Surety Title Company
Cigars International
Platinum Sponsors
Burkholder's Heating & Air Conditioning, Inc
CBRE
Cerminara Architect
Construction Risk Partners
Eastern Shore Heating and Air Conditioning
JP Morgan
Muschlitz Excavating, Inc.
Pany & Lentz Engineering Co
Peoples Security Bank & Trust
JLL
Titanium Sponsors
H&K Group, Inc.
Old Dominion National Bank
Beverage Cart Sponsors
Aerial Signs & Awnings, Inc.
American Overhead Door and Dock
First Bank
Fitzpatrick Lentz & Bubba, P.C.
Geo-Technology Associates, Inc.
Lithko Contracting, LLC
Lyndon Steel Company
Nu Cor Management
The Flynn Company
The Parker Agency Inc.
Driving Range Sponsors
Chiesa Shahinian & Giantomasi PC
Interior Motives
Putting Green Sponsors
Zebby Sulecki, Inc.
Vollers
First Bank
Tee Sponsors
American Bank
Bishop Photo
Builders Door & Hardware, Inc.
Builders Door & Hardware, Inc.
Central Jersey Nurseries Inc.
Devault Refrigeration, Inc.
Dynamic Engineering Consultants
Fords Innovative Services
Hutt's Glass Co., Inc
Jack Lehr Heating Cooling & Electric
Klover Contracting
JC Sons, Inc.
JLK Contracting, Inc.
Lakeland Bank
McMahon Associates, Inc.
NAI Summit
Penn Community Bank
Solar Landscape
Van Cleef Engineering Associates
Norris McLaughlin, P.A.