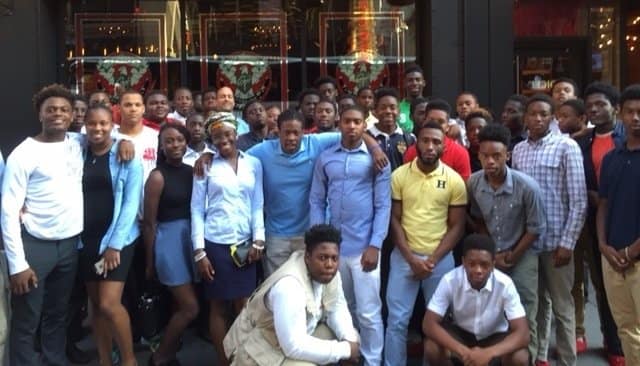 Irvington High School Football Team & Jim Petrucci Visit NYC!
Posted on Jul 21, 2016 in General
J.G. Petrucci Co.'s involvement with Irvington High School began in 2004, when Jim Petrucci stumbled upon a newspaper article about the young football coach at Irvington, Darnell Grant and the excellent job he was doing not only on the field but also in preparing the students for their future. As a Princeton graduate and former defensive lineman for the Tigers, Jim Petrucci particularly enjoys mentoring the young athletes and recently hosted the Varsity football team in NYC! The group saw the famous musical, Motown and had the opportunity to discuss Jim's experience at Princeton and how he guided his company through 29 years of successful growth in the Real Estate Development and Design/Build Construction.
Since 2004, J.G. Petrucci has enhanced their involvement with Irvington High School to not just football! Each year, Jim Petrucci also host a Top 12 Banquet recognizing the top 12 Senior Students and their academic accomplishments throughout their high school careers. The students are welcomed to the stage to share their stories with an audience comprised of their peers, family, friends and influential teachers who all clearly made a remarkable impact on the development of these young professionals. Two of the top 12 students secured internship opportunities at this years banquet and are both interested in a career in commercial real estate.
"Our Top 12 students epitomize what is possible for our Irvington High School Blue Knights.  They are REAL: Respectful, Empathetic, Accountable and Life Long Learners.  We are very proud of our scholars' accomplishments and know that they will continue to represent the very best of our Irvington students," says Ms. Sandra Boone-Gibbs, Principal of Irvington High School.