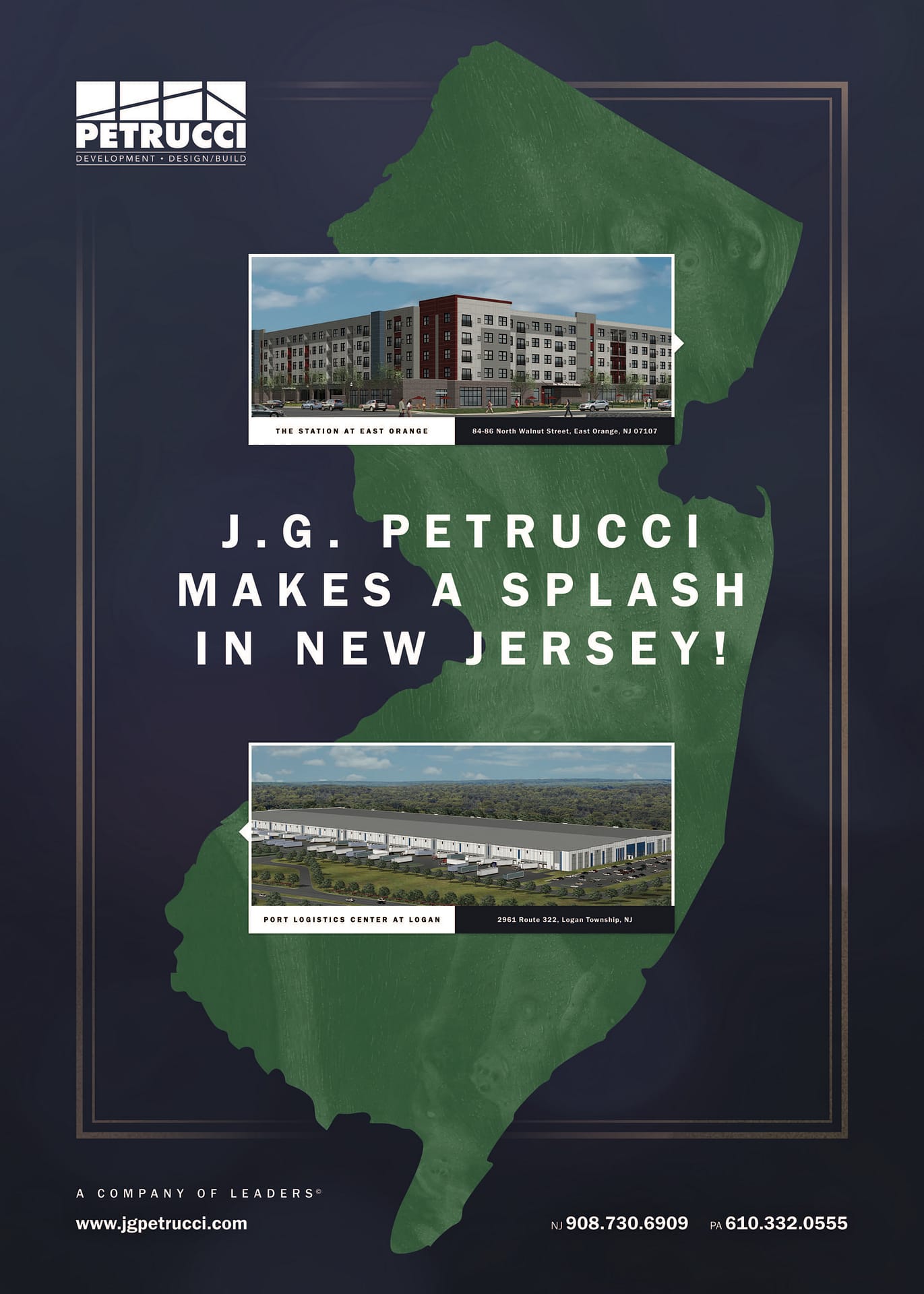 J.G. Petrucci makes a splash in New Jersey
Posted on Jul 20, 2021 in Press
Construction is underway at the Company's latest industrial and multi-family developments
J.G. Petrucci Company, Inc., has embarked on two significant projects in New Jersey- the Port Logistics Center at Logan and the Station at East Orange. The Port Logistics Center at Logan is a four-building industrial campus totaling over 1.8 million square feet located in Logan Township. One hundred miles up the New Jersey Turnpike, The Station at East Orange is a 172-unit multi-family community located in East Orange.
"We are thrilled to be expanding and diversifying our portfolio throughout New Jersey. The Port Logistics Center at Logan and The Station at East Orange demonstrate our commitment to developing a variety of asset classes," explains Greg Rogerson, Principal, J.G. Petrucci. "These projects will positively impact the surrounding communities through job creation and affordable housing opportunities."
J.G. Petrucci has partnered with TD+ Partners and the City of East Orange to transform a once-blighted site into a mixed-use development with luxury apartments and retail space. Situated on North Walnut and Williams Street, the new residential community will include 172 high-efficiency one-, two-, and three-bedroom apartments, 30% of which are designated affordable housing units, 3,477 sq. ft. of retail space and an enclosed terrace courtyard. The apartments will offer modern finishes, floating kitchen islands, stainless steel appliances, central air, and top-of-the-line amenities, including a fitness center, business center, and art gallery.
At the Port Logistics Center at Logan, J.G. Petrucci has broken ground on Building A, a 1,028,530 square foot warehouse and distribution facility and the largest building in the campus. Building A features 40′ clear height, 663 vehicle parking spaces, and 241 trailer parking spaces. Construction will be complete in the fourth quarter of this year. Building B (261,000 sq. ft.), Building C (253,500 sq. ft.), and Building D (331,870 sq. ft.), are all fully approved, pad-ready sites available for lease.
The premier industrial campus offers mid to large-sized industrial users fantastic connectivity to major Northeast metropolitan areas. The prime southern New Jersey location is less than 30 minutes from the Philadelphia International Airport and the Port of Philadelphia and less than two and a half hours to New York City and Washington DC. The convenient location off Route 322 provides the modern park premier visibility and access to a strong labor pool.