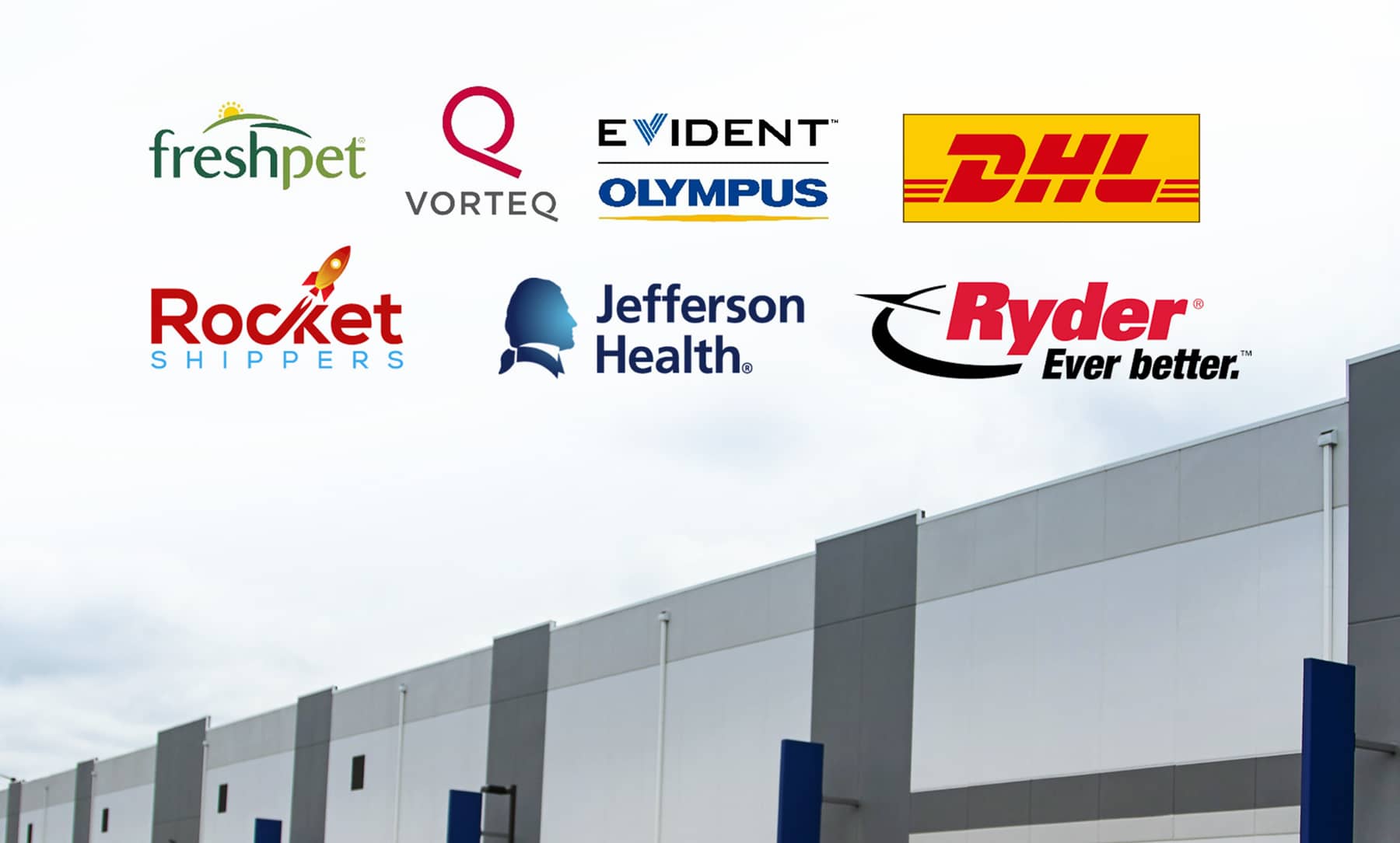 Judge Us By The Company We Keep
Posted on Aug 22, 2022 in Press
J.G. Petrucci Company Welcomes Seven Tenants in 90 days To Portfolio
In the past 90 days, J.G. Petrucci Company, Inc. (JGPCO), one of Eastern Pennsylvania and New Jersey's leading development and design/build firms, has signed over 395,000 square feet of leases with seven tenants, including: FreshPet, Evident Corporation (a wholly owned subsidiary of Olympus Corporation), DHL, Ryder Logistics, Jefferson Health, Rocket Shippers and Vorteq Coil Finishers.
"We take leadership seriously at JGPCO, and all of these companies are leaders in their respective fields," explains Joe Petrucci, Project Executive at J.G. Petrucci Company. "It's an impressive roster and we look forward to getting them up and running in our buildings."
FreshPet Inc., a pet food manufacturer, announced earlier this month its plans to construct a new 99,000 square foot state-of-the-art Innovation Kitchen near its existing "Freshpet Kitchens Campus" in Hanover Township, PA. JGPCO will develop, design, build and own the facility. Jonathan Gelman, Principal and Broker at Gelcor Realty in Fort Washington, PA, represented both parties in the transaction.
DHL, the German logistics company, has leased 120,000 sq. ft. of space in Building III of Lehigh Valley Flex Center. DHL in Hanover Twp., Northampton County PA provides courier, package delivery and express mail service worldwide. Brian Knowles with Lee & Associates represented DHL, and Jonathan Gelman with Gelcor Realty represented JGPCO.
Ryder System, Inc. (NYSE: R), a leader in supply chain, dedicated transportation, and fleet management solutions, leased a 96-space trailer storage lot in Logan Township, NJ, which will allow the leading logistics company to accommodate various local customers in the SNJ and SEPA regions. Dan McGovern and Drew Green with CBRE represented Ryder while Dean Torosian with JLL represented JGPCO.
JGPCO utilized its in-house construction capabilities to deliver a turnkey solution for the life sciences company, Evident Corporation. Evident leased 40,000 square feet of space at 240 Emery in LVIP VII in Bethlehem, PA for a new microscopy distribution and service center. Paul Touhey and Cody Lehrer from CBRE represented JGP and Ryan Barros & Scott Stange from JLL represented Evident.
Jefferson Health has leased 9,000 sq. ft. of medical office space in JGPCO's Station of Willow Grove located in Willow Grove, PA. The brokers on this deal were David Smith from Avison Young representing JGPCO and Shane Funston, Jason Bernardi, & Jack Meyers from Cushman and Wakefield representing Jefferson.
Rocket Shippers, a division of Pride Global, has leased 107,310 sq. ft. of warehouse space at 3 Danforth Drive in Easton, PA. The company offers complete ecommerce logistics and fulfillment with comprehensive integration, storage, packaging, and shipping for businesses.
Finally, Vorteq Coil Finishers, LLC., a coil coating manufacturer preleased 20,000 square feet at JGPCO newest acquisition 2302 South 26th Street in Allentown, PA. Mike Adams from NAI Summit was the broker on both the acquisition by JGPCO and serves as Exclusive Broker.
"We are very grateful to our broker partners that work diligently to get these deals done," says Joe Petrucci.